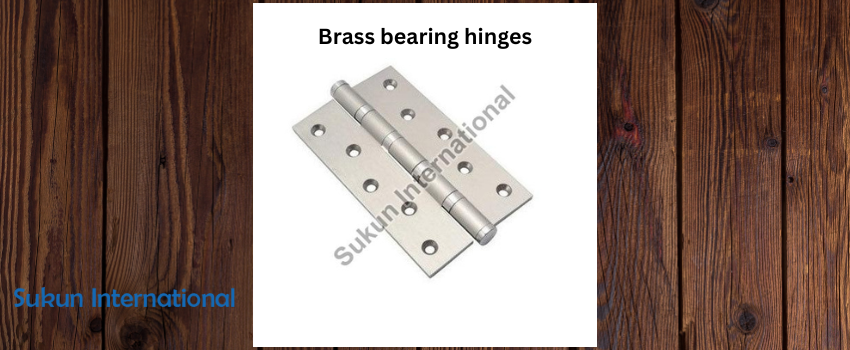 The hinge on your door makes it possible for the door to open and close, as it links it to the frame. It's easy to forget about the hinge when it is working well. The problem arises if they do not work properly.
As robust as stainless steel may be, it is also very susceptible to rust. This makes stainless steel fragile and ineligible for use as an exterior hinge. However, when it comes to brass, the metal is highly robust and can withstand any condition.
This article explains everything you need to know before selecting any Brass bearing hinges supplier for your requirements.
How Are They Constructed?
These solid brass hinges include several bearings that are fabricated to tight tolerances. The high copper content of brass is one of the reasons it is an antibacterial material by nature.
Some brass hinges can support doors weighing up to 80 kg (176 lbs) with a unique bearing system. Since each hinge passed an independent fire test and received an EC certificate, they are suitable for mounting fire-resistant door sets.
The majority of door hinges are mortised. This term describes insertions of hinges into parts of the door frame carved out or away. It allows the hinge to mount flush with the jamb of the door. The most effective way to determine which hinge will fit your door jamb is to take a look at your current door jamb before purchasing any hinges.
How Do Hinges Work?
As a handy piece of gadget, a door hinge is a piece of metal that connects the door frame to the door itself.
As a result of a hinge's rotational action, a door can open or close depending on the position of the hinge. Oftentimes, metal bearings and hinges on doors are made using steel, brass, or stainless steel to provide maximum strength.
Where Can You Use Them?
In the metal casting industry, particularly in the hinge area, brass is very useful because it is very malleable and produces less friction. There are also many different door hardware products available that contain these hinges as their decorative accents.
Several hinges can be found in residential settings and one of the most common is the brass butt hinge. In addition to being ideal for use in a variety of residential applications, brass-bearing hinges can also be used in furniture, cabinetry, and windows. Buildings and ironwork with antique designs complement brass hinges.
Brass is a soft metal. However, it is sturdy enough to serve a wide variety of hardware applications despite its softness. Brass hinges are also thicker than stainless steel hinges.
Benefits Of Brass Bearing Hinges
• The brass hinges have a strong and sturdy design which can withstand many storms. This makes them an excellent choice for a product that will provide a timeless appearance along with a guarantee of longevity. It is a metal that is known for its ductility, which results in a hinge that is durable and trustworthy.
• While it is break-resistant, it can also be easily molded into a variety of shapes. Moreover, brass hinges are also highly corrosion-resistant and do not Rust easily when exposed to moisture.
• Aside from being strong and reliable, they also have a premium appearance that makes them stand out from other metals. The aesthetic appeal of brass can be improved in several ways by applying various treatments to it.
The hinges of the door, first and foremost, need to be fairly strong, since they are constantly corrosion over time. With the help of this informative article, you can finally decide whether to seek a Brass Bearing Hinges Manufacturer or not.