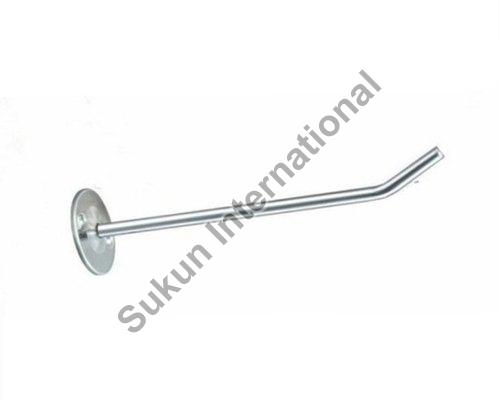 A hook is a tool that possesses a certain length and is made of metals. It has a curved end which is made with the purpose of grabbing onto, connecting, hanging or otherwise attaching it to another object.
Display Hooks:-
Though a very small device, stainless steel display hooks play a very important role in everyday life.
Display hooks are designed to be mounted on walls. They are quite uniquely designed. Display hooks are made of different materials, stainless steel being quite a common choice. These hooks are available in different sizes, models and styles. This variety in hooks enables them to attach and fix to the walls.
The display hooks are used commercially and domestically as well. These hooks are very common in clothing stores for displaying items and also in the trial rooms. These hooks are used daily in almost every retail store for hanging different items. Again these hooks are also used domestically for hanging clothes and other items.
Types of Display Hooks:-
There are different types of display hooks that are used in different stores and also at personal houses. These are used for various reasons. The variety in designs of display hooks are as follows:
• Slat wall prongs are a type of display hooks that are compatible with any sort of slatwall display. The panels of these hooks are fixed to the walls and the hooks are flexible for sliding into the grooves of the slat panel.
• Pegboard hooks are another variety of display hooks. These are pretty much similar to the previous kind. The difference being this hook variety is fitted with help of two mini prongs instead of a flat metal back plate. This helps these hooks fit into every kind of pegboard display.
• Wire mesh display hooks are made to fit the wire display units of the grid mesh. This variety of display hooks feature a 'C' shaped back plate that sets very neatly over the mesh grid and holds the hooks in place.
• Flipper scan hooks come with an extra hook, which contains an insert fastened at the end for displaying product description and price.
Benefits
The display hooks let the retail store owner or a clothing store owner organise the products for display and therefore increases the floor space. They also help in resulting in more sales by displaying several hangable items on these hooks properly.
These hooks allow maintains any items in larger volumes in a tidy and neat fashion. This improves the aesthetic of the items and saves space along with the cleanliness of the surrounding.
The hooks also let hanging the backer card, price tags and other attachments with the products is that it becomes convenient for the customers to check on the variety of items together in detail. Hence it makes the displaying even more organised.
Conclusion:-
There are different companies in India that manufacturers these products with the finest quality raw materials and are also engaged as stainless steel display hooks suppliers. They claim their products are highly resistant to rust and facilitate smooth usage. They offer these products galvanised and with a finishing of the polished surface. These products weigh according to their sizes. The suppliers also provide sampled to the customers if required.